In the pre-war early 1930s stories, Doc Savage and his crew typicallyflew around the world in a trimotor, low-wing aircraft, further described as a speed plane capable of cruising at 200mph, which was considered fairly fast for the era.
In The Man of Bronze, Doc uses an older trimotor high-wing aircraft, similar to the Ford Trimotor Tin Goose, which fits in with the period, as a decoy to trigger an expected ambush. Described as an older aircraft that he planned on replacing with a new low-wing model, he used it as a sacrificial lamb to fool the criminal mastermind that was attempting to prevent Doc from discovering his legacy.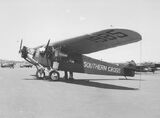 The make and model of Doc's trimotor airplanes are not identified in the books. Frequently they are outfitted as amphibians, capable of landing on land or water, by adding floats to the aircraft.
Of known aircraft of the era, the Junkers 52/3m is a close, but not ideal fit for Doc's trimotor airplane. It was a low-wing aircraft, introduced in 1931. It was also known to have been outfitted with floats for amphibious operations.
References
Edit
Fokker F-VII
Ford Trimotor
Junkers Ju-52
Avro 618
Fokker F-10
Junkers Ju-252
Junkers Ju-352
Ad blocker interference detected!
Wikia is a free-to-use site that makes money from advertising. We have a modified experience for viewers using ad blockers

Wikia is not accessible if you've made further modifications. Remove the custom ad blocker rule(s) and the page will load as expected.