She had a wealth of bronze hair--hair very closely akin in hue to that of Doc Savage.
She was tall; her form was molded along lines that left nothing to be desired. Her features were as perfect as though a magazine-cover artist had designed them.
She wore high-laced boots, breeches, and a serviceable gray shirt. from Brand of the Werewolf by Lester Dent writing as Kenneth Robeson.
Patricia "Pat" Savage, joins Doc Savage on many of his adventures beginning with her first appearance in "Brand of the Werewolf". She is the daughter of Alex Savage, Doc's uncle who lives in Canada.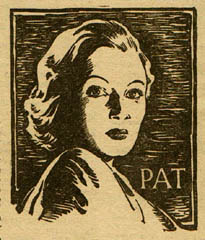 Pat is described as being 18 years of age and shares many of Doc's physical characteristics: bronze skin and hair, golden eyes. She also shares Doc's sense of adventure, thus making her another of Doc's companions.
Doc Savage makes attempts to restrain is young cousin in order to keep her out of harm's way.
Pat typically carries a Pat's SAA Revolver. It was handed down from her grandfather and is often carried in her purse.
Pat Savage appears in 39 Doc Savage adventures:
Brand of the Werewolf
The Men Vanished
Fear Cay
The Invisible Box Murders
Death in Silver
Men of Fear
The Annihilist
The Man Who Fell Up
Spook Hole
The Fiery Menace
The Fantastic Island
The Laugh of Death
Murder Mirage
The Time Terror
The Men Who Smiled No More
Waves of Death
The Black Spot
The Black, Black Witch
The Terror in the Navy
The Mental Monster
He Could Stop the World
Hell Below
The Feathered Octopus
The Secret of the Su
Devil on the Moon
Weird Valley
Motion Menace
Violent Night
Yellow Cloud
Terror Takes 7
Poison Island
Death is a Round Black Spot
Hex
Target for Death
The Spotted Men
I Died Yesterday
The Awful Dynasty
Land of Long Juju
World's Fair Goblin

External Links
Edit
Pat Savage on the Supreme Adventure site
Ad blocker interference detected!
Wikia is a free-to-use site that makes money from advertising. We have a modified experience for viewers using ad blockers

Wikia is not accessible if you've made further modifications. Remove the custom ad blocker rule(s) and the page will load as expected.